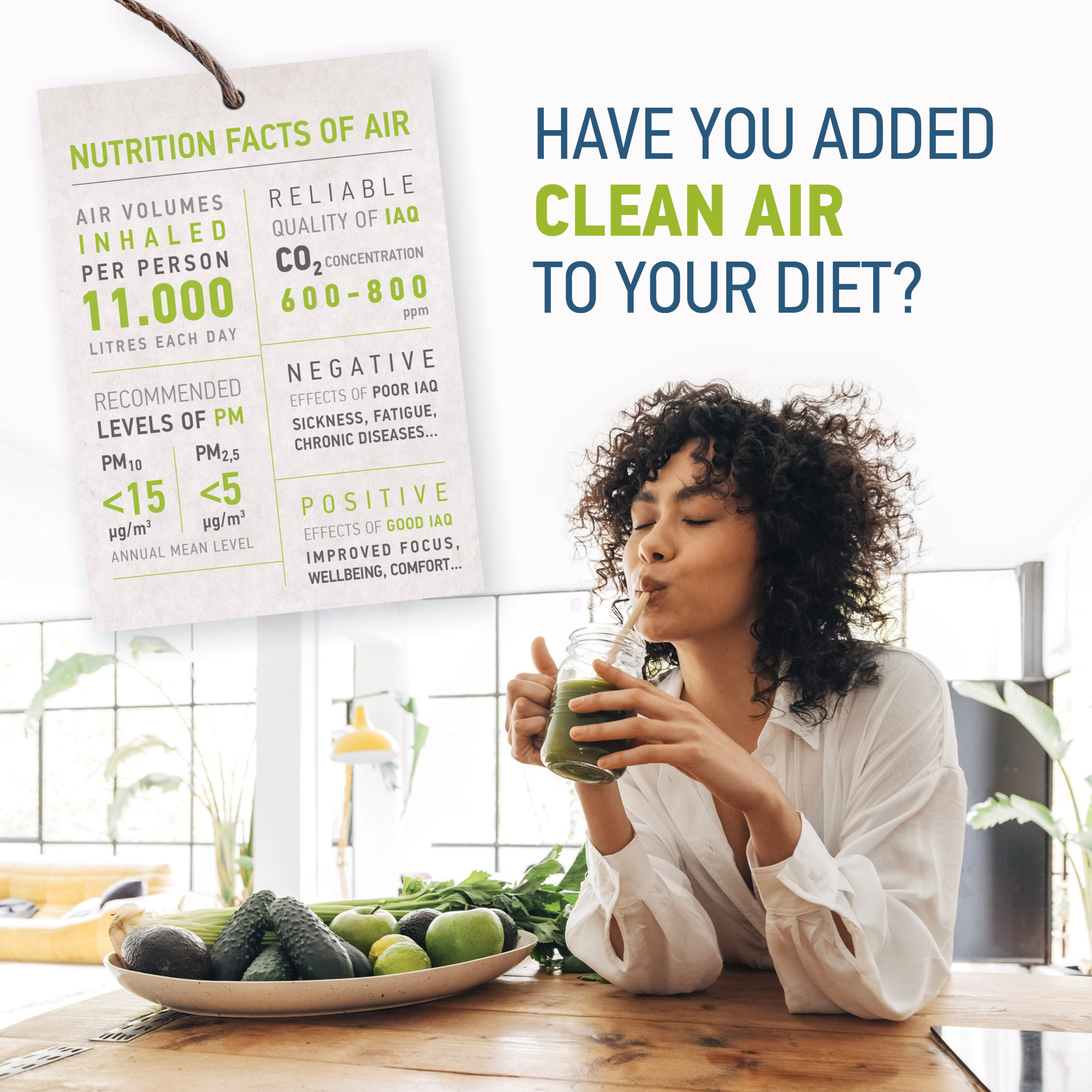 Clean indoor air is healthy living
Clean air is a part of healthy living. Conversations on clean air need to be part of daily life because the air we breathe has as much impact on our health, productivity, and well-being as the food we eat. We spend 90% of our time indoors, and it's time to make clean, healthy air part of your daily nutritional considerations. Learn why air is integral to healthy living below.
Traditionally, when we speak about healthy life, we mainly address two subjects: healthy food and physical activity.
The COVID-19 pandemic has also added clean air to this discussion. In houses, apartment buildings, kindergartens, schools, eldercares, offices, shops, fitness centres, etc. we want to have clean air.
We spend 90% of our time indoors, and we should not accept poor air quality. Clean air is a part of healthy living.
The discussion about clean air is no longer just a discussion about the work environment in factories. It has been added to the healthy living agenda.
During the day, we inhale 8.640-12.960 litres of air, and we will not accept bad substances in the air are transported to the lungs and maybe further to the blood.
Virus in the air
The Danish Technological Institute performed one of the largest virus experiments. A large room (length 13,9m, width 6,7m, height 7,0m) has been loaded with virus and it hangs in the room for a very long time if no ventilation was applied. After 18 minutes, the virus concentration was still 80%.
It is surprising that the virus hangs in the air for such a long time. Air cleaning and ventilation is the most effective method to reduce virus exposure indoors.
Filtration of inlet air
More and more people install ventilation systems in private homes. They look at clean air as a critical art of healthy living. Particles from the kitchen are distributed to the living area even if you have an effective exhaust above the cooker. You spend around 7 hours in your bedroom. Children spend around 12-14 hours in their rooms. Families want to have a healthy life and that also includes clean air. The solution to this is a ventilation system.
Ventilation systems get installed with an air filtration system. When the inlet air is filtered, you keep the ventilation system clean, but you also get fewer harmful particles added to your home. The inlet air is then cleaner than outside – even at the countryside.
Below is a figure showing particle measurement, where the Danish Technological Institute has analysed the ventilation system in a terraced house. The concentration of particles in the inlet air is smaller than outside.
| | |
| --- | --- |
| Location | Number of particles per cm3 |
| Outside | 1.170 |
| Inlet of filtered air to rooms | 630 |
| Living room with kitchen | 9.000 |
| Bedroom | 9.700 |
Conclusion
When people discuss healthy living, it is not only healthy food and sport activities, but clean indoor air must also be added to the discussion. We spend 90% of the time indoor and we want clean air. Particles and virus can be suspended in the air for more than an hour. The solution is ventilation. Ventilation systems with filters secure that inlet air is cleaner than outside.